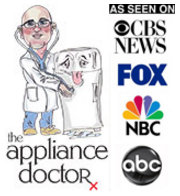 Refrigerators are undeniably one of the most important home appliances for these plays major functions such as making foods cool and fresh, preserving them and providing proper storage especially for items that need to be refrigerated. But over time, refrigerators poses problems and one of the most commonly encountered issues are refrigerators not cooling properly.
What Would Really Cause Refrigerators to Stop Getting Cold?
One of the common causes for this condition the problem with defrost system. If the freezer of your refrigerator is cold but the refrigerator itself is warm, there might be a problem with the evaporator fan motor. Refrigerators actually have sets of coils known as evaporator, and this can be frosted up resulting in defrost problem.
Is Your Refrigerator Cooling Properly? Possible causes if it's Not Cooling
The following can be one of the reasons why your refrigerator is not cooling properly:
If this one is faulty, it can surely cause trouble on the compressor of your refrigerator. This must be tested first before any other parts and replaced if needed for continuity.
This fan motor is significant especially in terms of cool air circulation to your unit. If the freezer is still functioning well while the fridge doesn't cool, this is an obvious sign that there can be a problem with the evaporator fan motor. This fan must be thoroughly checked for possible obstructions. If the fan fails to flow properly without obstructions, it is very noisy, and motor does not display continuity, this clearly needs to be repaired or replaced if deemed necessary.
This is also a vital part in the circulation of cool air of your refrigerator except either the freezer or the refrigerator would be cooling perfectly well. This part must be examined. The fan blade of the condenser should also be inspected for possible obstructions.
Westchester Refrigerator Repair is All You Need to Settle the Issues
If you wanted to resolve issues affecting the condition and quality of your refrigerator, Westchester Refrigerator Repair is all you need. You can count on this repair service all the time, and since this service is delivered only by expert repair technicians, you can expect nothing but the best results. Regardless of the issues that need to be repaired and resolved entirely, Refrigerator Repair Westchester County NY can rectify the problems once and for all and get your refrigerator back on track once again.
If you want great results, book for this repair service now. This is the ultimate solution that helps create functional and reliable refrigerators that live up to their intended purposes, and that can serve you better for the long years.
The repair services are carried out with efficiency and professionalism guaranteed, so you don't have to worry. With refrigerator repair Westchester County, your refrigerator is in good hands.
With having a combined experience of over 47 years, we provide our help and expertise for
https://www.appliancerepairtv.com/wp-content/uploads/2017/07/Header-Logo-4.png
0
0
gladmin
https://www.appliancerepairtv.com/wp-content/uploads/2017/07/Header-Logo-4.png
gladmin
2019-08-14 12:09:45
2019-08-14 12:23:38
Refrigerator Repair Westchester NY Getting Your Refrigerators Get Back on Track