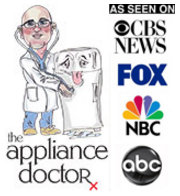 Appliances help you do your tasks smoothly every day. The refrigerator works hard 24/7, so it might develop problems and require repairs once in a while. If you ignore the problem or fail to notice it immediately, you could end up with more expensive problems later on. There are visible signs that the refrigerator is malfunctioning, but some signs are not always readily apparent. You should keep an eye on your refrigerator to spot any indication that you might need to hire an expert in refrigerator repair Westchester County NY.
Common Refrigerator Problems
Odd Noises
If you hear strange noises coming from the refrigerator, you should call a repair technician right away. A refrigerator can occasionally be noisy, especially when it is cycling on and off. You're already used to the whirs, hums, and clicks coming from the fridge, so you should be able to tell if your appliance is making odd sounds. If you hear snapping, clanking or hissing that you have never heard before, you should call in a repair technician to determine the cause of the problem.
Leaks
If the refrigerator is leaking, it is an obvious sign that you need to hire a repair technician. There is definitely something wrong when you see a pool of water at the bottom of the refrigerator. Before calling a repair technician, you should first make sure that nothing inside the appliance has caused the pool of water. Open containers might cause a leak. If you cannot find the source of the leaks, you know that there's a problem that must be solved immediately.
Poor Performance
Sometimes, the signs for refrigerator repair are more subtle. You have to occasionally check to ensure that the food stored in your fridge is staying fresh for as long as it should. If you have to throw foods away before their expiration date, this could be a sign that the refrigerator is not keeping things cool enough and that you need to hire an expert to determine the cause of the problem. Knowing how long the foods are staying fresh inside the fridge takes effort. If you check expiration dates before throwing items out, you will probably be able to tell if your food is going off earlier than it should.
Refrigerators are expensive appliances, so a replacement is not always a practical choice. You will want to do everything that you could to save your current unit. Paying close attention to the performance of your fridge will help you determine any issue right from the start and get the unit fixed in a timely manner. This will help you prolong the life of your fridge. You can also save money because you don't have to buy a replacement anytime soon.
Whether you need refrigerator repair Westchester NY or refrigerator repair White Plains NY, you should find a professional who can deal with a wide range of appliance problems. Find someone who is insured, licensed and bonded and has years of experience fixing the refrigerator brand and model you are using.
With having combined experience of over 47 years, we provide our help and expertise for
https://www.appliancerepairtv.com/wp-content/uploads/2017/07/Header-Logo-4.png
0
0
gladmin
https://www.appliancerepairtv.com/wp-content/uploads/2017/07/Header-Logo-4.png
gladmin
2018-09-17 05:39:28
2018-09-07 05:52:36
Signs that You Need Refrigerator Repair Westchester County NY