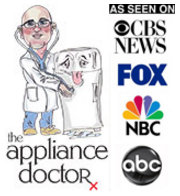 Certain food and beverages are mostly enjoyed when served cold. This is especially true during a long hot season. Eating becomes fulfilling with extremely cold salad and drinks full ice cubes. With a glass of refreshing wine and soothing ice cream, the dull eating experience becomes more exciting. Thanks to a functional and efficient refrigerator.
However, such an unforgettable moment won't be possible with an ineffective freezer at home. Let's admit it. Not all of the time this appliance works excellently. Despite its high-quality, the great performance tends to change over years of use. Regular inspection, maintenance, and repair should not be overlooked.
A highly impressive refrigerator can be amazing storage. Well, such an appliance will never disappoint to fascinate you during special events such as birthday parties, wedding, anniversary, and corporate celebration. And the food leftovers can give you a headache. Don't worry. Your big refrigerator comes to the rescue. It can store everything, from pasta, drinks, pizzas to burgers over a short span of time. Let your friends take some to avoid the hassles, too.
Unfortunately, problems may happen at the most unexpected time. Perhaps, your refrigerator may not function during a big occasion. It's really a huge dilemma. As a homeowner, it's important to hire a company that offers regular inspection and maintenance to give you peace of mind. But the knowledge about the possible issues is a good start. Take a close look at the following:
The Refrigerator Cycles too Often
A fridge that constantly runs can be noisy. It can also make a dent in your bank account. As one of the most power-intensive appliances at home, it can increase your electric consumption. A buildup of dust and pet's fur can be the main cause. Well, you can utilize a vacuum cleaner to get rid of the dirt. Or use a comfy cloth to remove the remaining debris.
Unfortunately, too much cycling does not mean a buildup of dust in the condenser coils. Other problems may arise, requiring to seek the help of an expert instead.
Water Leakage
Another problem is water leakage under the appliance. As with the buildup of dust in the coils, it is also a serious concern. It typically comes from a blocked defrost drain or a frozen water supply line. This seems an easy-to-solve problem. But it's not in reality. Aside from a wide experience, it requires a set of proper tools. As a homeowner, you don't have those things. You need to spend more to purchase the equipment and enroll in an extensive class.
It's always best to depend on a specialist. From the tools, knowledge to prices, a professional has them all. This means huge savings and hassle-free experience are always possible at the end of the day.
Today, finding the right company can only take a minute or two. But the options make the selection tough. Worry no more! Appliance Doctor, your refrigerator repair White Plains NY, is prepared to give you a hand. We are the most trusted and dependable company in the city. We also provide small appliance repair White Plains NY. Plus, we are a one-stop shop for everyone.
With having combined experience of over 47 years, we provide our help and expertise for
https://www.appliancerepairtv.com/wp-content/uploads/2017/07/Header-Logo-4.png
0
0
gladmin
https://www.appliancerepairtv.com/wp-content/uploads/2017/07/Header-Logo-4.png
gladmin
2018-11-20 08:56:20
2018-11-13 09:07:21
Things to Know About Refrigerator: Benefits, Common Problems and Why Hire an Appliance Repair in White Plains NY