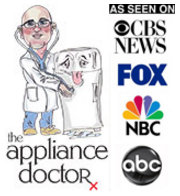 Your oven refuses to hit up, and your freezer will not keep your ice cream frozen. Even your dryer won't spin. If any of these machines have broken down more than once, you might probably be weighing the option – do I repair or replace?
As a resident of New Rochelle, NY, this scenario may have played out a couple of times in your home, and you may seem confused about your next move. Relax; you don't have to feel that way.
Major appliances in the home can cause major expenses, and now consider whether to repair or replace them. Take, for example, a high-end refrigerator that can run upwards of $2,000. As a cost-conscious consumer, you want your appliances to last longer.
Before you decide to go for a replacement, here a few factor you can discuss with your appliance repair New Rochelle, NY:
How much will the repair cost?
If the cost of repair is more than 50 percent to replace it, then you can opt for a new one. Another consideration would be the cost and availability of replacement parts. If the defective part is no longer in the market, then you have no choice but to go for replacement.
Again, the cost and logistics of installing a new appliance are also critical. An appliance repair will be a better option if it is cheaper than getting a new one – with other costs like logistic factored in. For catastrophic failures that require huge expenses, a replacement is your best bet.
How old is the Appliance?
If your Appliance is over 50% of its expected life span and it does require a repair cost more than half its original cost, a replacement is a better option. Otherwise, please take it to your appliance repair New Rochelle NY to get it fixed.
Could Better Maintenance Increase the life of my Appliance?
By adopting a few maintenance practices, you can avoid replacing your appliances. Proper maintenance will prolong the life of your appliances, and taking it to the appliance repair New Rochelle NY it will be less often. We always want to save cost when it comes to repair or replacement—maintenance is the perfect way to achieve that goal.
By periodically vacuuming your refrigerator condenser coils – which is at the back of the refrigerator – to get rid of dust, the unit can utilize more electricity to get it cool.
Another maintenance practice would be to clean your range top and oven – you're invariably extending the life of your appliance and keeping more money in your pocket.
Ultimately, the choice to repair or replace lies with you. But by discussing the above questions with your appliance repair New Rochelle, NY, you can make the right decisions. That way, you will spend wisely to get a good result.
Don't be caught by surprise; with a good maintenance culture, your appliance will work optimally and last longer. There is nothing as getting great value for money; you should be getting that too with your appliances.
With having combined experience of over 47 years, we provide our help and expertise for
https://www.appliancerepairtv.com/wp-content/uploads/2017/07/Header-Logo-4.png
0
0
gladmin
https://www.appliancerepairtv.com/wp-content/uploads/2017/07/Header-Logo-4.png
gladmin
2020-01-27 05:24:46
2020-01-11 05:31:45
Consider these Factors before you Settle for appliance Repair New Rochelle NY