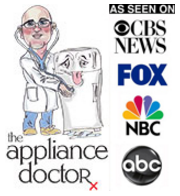 These days just about everybody has a refrigerator a stove a washer a dryer or a microwave oven. These appliances tend to break down. These appliances don't last as long as they used too, they break down more often. With vast amounts of apartment complexes on the rise there is a huge need for onsite technicians who can deal with the daily appliance repair needs for renters and home owners alike.
Appliance doctor in Westchester NY understands this need and has been servicing the community with affordable Westchester appliance repair services for over thirty years.
So, what should you do when that washer overflows or your fridge isn't keeping things cold anymore? Should you shell out the money to have it repaired or bite the bullet and buy a new machine?
The first thing to consider is the age of the appliance. The older they get the more chance there is of a repetitive failure. Then it depends on the repair cost versus the replacement cost if you want to buy it new.
Appliance Doctor Refrigerator Repair
Experts state the middle life span of the typical refrigerator is eight to fifteen years. The FTC Federal Trade Commission recommend going the way of repair if the repair cost is up to 30% of the replacement cost of a refrigerator. Things to keep in mind if you are considering replacement its often not just the physical unit you are paying for to have it replaced. There are most often additional fees involved for removing the old model particularly in high rise apartment complexes without service lifts.
Appliance Doctor Dishwasher Repair
When it comes to the decision on your dishwasher repair or replace the matrix is the same as the refrigerator. Dishwashers tend to have a ten to fifteen-year life expectancy. However, if the dishwasher has been repaired multiple times its most probably a better decision to opt for a replacement in this case.
Appliance Doctor is a strong advocate of maintaining appliances. A well-maintained appliance will far out last one that has been neglected. Simple routines regarding cleaning and periodic maintenance will mitigate the risk of replacement and keep appliance repair costs to a minimum.
https://www.appliancerepairtv.com/wp-content/uploads/2017/07/Header-Logo-4.png
0
0
gladmin
https://www.appliancerepairtv.com/wp-content/uploads/2017/07/Header-Logo-4.png
gladmin
2017-11-10 06:47:23
2018-05-11 11:46:51
Appliance Repairing Versus Appliance Replacement