When choosing an oven there are many sizes shapes and capacities to choose from. Do you go for a wall oven? An upright or under counter? Do you go for gas or electric? These are all important questions to consider when choosing the model that is right for you. According to Appliance Doctor, the specialist in Dobbs Ferry oven repairs an often-overlooked feature is choosing whether to go with a convection style oven or the conventional element style.
Why Choose a Convection Oven
Convection ovens use a fan to circulate the air within the oven to equalize the temperature. No matter what shelf you place your dish or regardless of how many dishes you have to cook at the same time they all cook evenly. An additional benefit with convection as more hot air becomes in contact with what your cooking, dishes cook faster. Recipes should be adjusted accordingly for this increase in performance. Typically, convection ovens cook 20% faster and require a reduction in heat by 25 degrees.
The cooking benefits of convection ovens are undeniable. For baked goods, butter will release steam quickly this means the result will be flakier, lighter and fluffier. With roasts, the fat will render quickly sealing in the natural juices and leaving a brown crispy skin that will require little to no basting.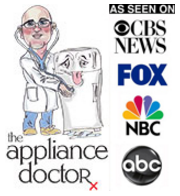 The Case For Conventional Ovens
Conventional ovens still have a place in the modern kitchen. They are more cost-effective, have less moving parts and as far as appliance repair in White Plains they require less maintenance than there fan forced counterparts.
Conventional ovens are the chefs choice when it comes to baking souffle and light cakes. The fan forced action of a convection oven doesn't provide the delicacy or finesse required to consistently cook these dishes to perfection. The fan forced air is too much to be continually blowing at this soft batter and require a conventional oven or a fan forced model where the fan can be defeated.
With having combined experience of over 47 years, we provide our help and expertise for
Appliance doctor is a factory trained and authorized service agent for most brands of convection and conventional ovens across New York City. We provide same day service at rates you can afford.
https://www.appliancerepairtv.com/wp-content/uploads/2017/07/Header-Logo-4.png
0
0
gladmin
https://www.appliancerepairtv.com/wp-content/uploads/2017/07/Header-Logo-4.png
gladmin
2018-04-28 11:02:22
2018-05-29 04:39:49
Appliance Repair Doctor Convection Oven Versus Conventional Oven