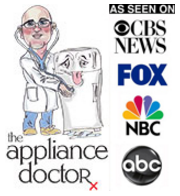 If you are in the market for a new oven you may want to check out the features and benefits of a wall oven. At Appliance repair doctor, we know a thing or two about ovens and have been the go-to appliance repair specialists in Scarsdale and appliance repair specialists in Westchester County NY for over twenty years. Here are some things to consider when purchasing a wall oven.
Wall Oven Configurations
First things first to decide what configuration is going to suit your space and requirements. Wall ovens come in single, double and combination configurations but as a general rule of thumb, your available space will dictate the correct style for your needs.
A single oven is pretty self-explanatory it is a single oven built into the wall. A double wall oven is pretty self-explanatory as well it has a single model number but includes two completely independent ovens stack on top of one another. Most often doubles will share the same control panel at the top of the unit.
Combination ovens are similar to double ovens however instead of an upper oven a combination unit has a microwave on top. Most have pull-down hamper doors on the microwave to match the handle on the oven below. A similar appearance to a combination unit can be achieved by installing a conventional microwave above a single wall oven and using a trim kit to provide a sleek uniform look.
Appliance Doctor Oven Repair
Before diving for features inside the oven consider your door options. In addition to the standard fold-downstyle, some brands offer French door or side swing options. The benefit of these is you won't have to reach over or around a hot oven door to access your cooking.
Inside the oven, your first decision will be to go for the generic thermal oven or step up to a convection style fan forced model. Fan forced ovens distribute the heat more evenly giving a more accurate temperature on every shelf replacing the need to juggle trays of food from one shelf to another and will speed up the cooking process.
Easy glide racks will make life easier getting heavy items in and out. Higher-end models will have a heat probe to display your meat temperature which can be set to turn the oven off when the desired temperature has been met.
https://www.appliancerepairtv.com/wp-content/uploads/2017/07/Header-Logo-4.png
0
0
gladmin
https://www.appliancerepairtv.com/wp-content/uploads/2017/07/Header-Logo-4.png
gladmin
2018-03-08 04:30:26
2018-05-21 05:06:11
Appliance Doctor's Guide to in Wall Ovens