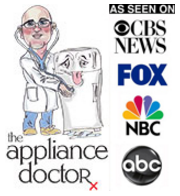 A dishwasher is a huge help in the kitchen. However, when you encounter problems, it can be frustrating. Some of the most common issues you may experience include, poor cleaning, tablets dissolving too fast, cloudy glasses and hard water. If it is more than a simple fix, try the Appliance Doctor for Westchester and Dobbs Ferry dishwasher repair. Here are four of the top dishwasher problems and how they can be solved.
Solve Your Dishwasher Problems with the Appliance Doctor
You expect your dishes to be clean after a cycle. However, if your load is not clean at the end then your machine could be dirty. To combat this make sure you are keeping the filter free from food debris. Four times a year, run an empty cycle with either a dishwasher cleaner or vinegar to keep it fresh. Fill your machine correctly and you can prevent the need for dishwasher repair in Westchester, NY.
The Appliance Doctor Offers Dishwasher Repair in Westchester, NY
If your glassware has become cloudy then your dishwasher is to blame. This is usually from a build-up of hard water minerals. To solve the problem soak your glassware in vinegar and increase the amount of detergent. You could also try a dishwashing booster product. Some homes experience more problems with hard water than others. Experiment with the amount of detergent you use to find the right balance. If you can't resolve your appliance issues, find expert Dobbs Ferry dishwasher repair providers.
Benefit From Local Dobbs Ferry Dishwasher Repair
Dishwasher tablets have made it easier to ensure you are using the right amount of detergent. However, you might notice they are dissolving too fast and your dishes aren't getting the benefits. To remedy this you need to place them in the dispenser cup. If you add them to the tub, they will dissolve and wash away before the main wash. Your dishes won't be clean and you will be wasting tablets. If you have followed our expert tips and your machine still isn't cleaning effectively, use the Appliance Doctor for dishwasher repair in Westchester and Dobbs Ferry, NY.
With having combined experience of over 47 years, we provide our help and expertise for
https://www.appliancerepairtv.com/wp-content/uploads/2017/07/Header-Logo-4.png
0
0
gladmin
https://www.appliancerepairtv.com/wp-content/uploads/2017/07/Header-Logo-4.png
gladmin
2017-09-18 12:36:17
2018-05-13 13:02:44
4 Top Dishwasher Problems Solved