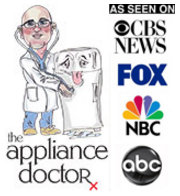 For many homeowners, a dish washing appliance has become more than just a modern convenience. This appliance has entrenched as part of their daily living. Dishwasher unit helps save your precious time and energy, and help keep sinks and counter tops clutter-free. Because you rely on this household appliance, it can prove a major disturbance when you find out that your dishwasher is not working properly.
Professional Dishwasher Repair Westchester NY to Prolong the Lifespan of Your Kitchen Appliance
As with any kitchen appliance, a dishwasher of any model and brand do need a little professional TLC. Whether it seems like a minor operational malfunction or a considerable breakdown in overall cleaning management, calling professional dishwasher Repair Company in Westchester can make a huge difference in the way your unit performs. What is more is that working with a reliable dishwasher repair company can really prolong the life of your appliance.
When to Call a Reputable Repair Professional?
Not sure if your dishwasher needs professional repair? Here are the signs to find out whether you need professional dishwasher repair service:
Damage Latch: Not being able to shut your dishwasher properly can play a considerable role in how it can clean your dishes very well. An expert and well-trained experts from Appliance Repair will be able to restore the latch fast to restore your dishwasher to its best performance.
Lukewarm Water: The water that circulates throughout the dishwasher should be hot always. Having lukewarm water or dishes which feel cool to hold after a cleaning cycle is a sign that it needs a repair service.
Visible Body Cracks: In due course, your dishwasher will start to show signs of wear and tear. But, visible fractures over the body of the unit can affect the way it cleans the dishes. Always keep in touch with reliable company experts in dishwasher repair in Westchester, NY to get your appliance back on track right away.
Pooling Water: The pooling water at the base of the unit is the biggest sign that your dishwasher needs a repair. All too often, homeowners in Westchester, NY find puddles in their dishwasher after a cleaning cycle. They think that it's only a "normal" occurrence with their home appliances. This simply is not the case. Water pooling can be a major indication that something is not working well within the unit.
If you do realize that you need professional repair service on your dishwasher unit, ensure to source a competent team of experts that have the experience and know-how in repair service. Look for a company that provides repair services on every brand and model. This gives you an assurance that you are working with a company that can fix your unit and gets you back to your normal household routine as fast as possible.
Appliance Repair TV is a reliable provider of dishwasher repair in Westchester, NY. They have trained and skilled experts servicing every model and brands of dishwashers. They provide superb Dobbs Ferry dishwasher repair service in Westchester and nearby areas.
With having combined experience of over 47 years, we provide our help and expertise for
https://www.appliancerepairtv.com/wp-content/uploads/2017/07/Header-Logo-4.png
0
0
gladmin
https://www.appliancerepairtv.com/wp-content/uploads/2017/07/Header-Logo-4.png
gladmin
2018-08-27 05:35:08
2018-08-08 05:53:16
Various Signs That You Need a Professional Dishwasher Repair in Westchester, NY