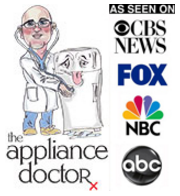 Even if you have a top of the range washing machine, it may not be able to tackle some of the tougher stains. Coffee, grass, and grease can leave your laundry stained if left untreated. If you are having problems and need washing machine repair in Westchester, try the Appliance Doctor. Here are a few simple ways you can pre-treat stains before you run a cycle.
Follow the Appliance Doctor's Stain Removal Tips
Different stains require handling in various ways. Coffee can leave a stubborn mark. However, try and soak it in a mixture of warm water and a scoop of your chosen detergent. Then rinse and treat the area with rubbing alcohol. Once this solution has dried, rinse it off and add it to your load. If you aren't home at the time, you can try applying club soda to remove the stain. Rubbing alcohol is also effective on grass stains. Combine with equal parts of water and dab the affected area and let it completely dry. Rinse and wash on a cold cycle to ensure the grass marks are gone.
Find Quality Washing Machine Repair in Westchester, NY
If you find grease marks on your clothes, then you will need to pre-treat it with dishwashing detergent. The soap reacts with the oil and dissolves it. Make sure you rub it into lift the blemishes before rinsing and setting on your wash cycle. Another tricky stain to get rid of his blood. If you can treat it straight away, then hand wash in cold water. If the blood remains then try some salt combined with water to make a paste and rub into the mark. Wash away the solution and put the garment in your washing machine. Alternatively, if the blood has dried, you can use toothpaste.
Different methods work well to treat particular stains. Follow our pre-treating advice to keep your laundry free from marks. If you are seeking washing machine repair in Westchester, NY, call the Appliance Doctor.
With having combined experience of over 47 years, we provide our help and expertise for
https://www.appliancerepairtv.com/wp-content/uploads/2017/07/Header-Logo-4.png
0
0
gladmin
https://www.appliancerepairtv.com/wp-content/uploads/2017/07/Header-Logo-4.png
gladmin
2017-08-22 07:08:21
2018-05-21 05:16:45
How to Handle Stain Removal Before Loading your Washing Machine