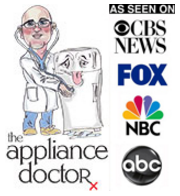 If your washing machine isn't working as it should then your washing machine repair Westchester NY will need repairing. You could do this yourself or call in the experts depending on what the problem is. If you have the skills and the know how you might be able to get it done your self. For more complex washing machine repair in Westchester, contact the Appliance Doctor. Here's how to decide if you need washing machine repair services.
Find a Technician that Specializes in Washing Machine Repair in Westchester
Whether or not you need a trained washing machine repair technician depends on the cause of the problem. If your washer no longer smells fresh, there are a few home remedies you can try. Usually, the issue is too much detergent as the excess sticks to the machine causing the smell. Set your washer to the highest temperature with a cup full of vinegar in the drum and reduce the amount of detergent you use. You may also find that water gets trapped in the machine if you keep the door closed all of the time. Leave it open in between cycles to allow sufficient air circulation. If you can't fix the problem yourself, try one of our expert technicians for washing machine repair in Westchester, NY.
The Appliance Doctor Provides Efficient Washing Machine Repair in NY
Newer models have computerized control panels which mean we encounter more complex problems. Sometimes you can Google the issue for a quick solution if you see an error code. However, more often than not you will need expert assistance. In some cases, you will need to replace, however, a washing machine can last up to 16 years so it is worth hiring a professional for washing machine repair in Westchester. Weigh up the costs of replacing compared to a competitive quote from the Appliance Doctor in Westchester, NY.
When your washing machine starts to have problems, there could be a number of causes. Try simple at home solutions for bad odors, however, for complex washing machine repair in Westchester, hire a trained technician from the Appliance Doctor.
With having combined experience of over 47 years, we provide our help and expertise for
https://www.appliancerepairtv.com/wp-content/uploads/2017/07/Header-Logo-4.png
0
0
gladmin
https://www.appliancerepairtv.com/wp-content/uploads/2017/07/Header-Logo-4.png
gladmin
2017-10-22 12:32:32
2018-05-21 05:14:09
How to Decide If You Need Washing Machine Repair Services