If you are looking for a premium option for your home's appliances chances are that premium option will include a stainless-steel finish on these products. Basically, all major brands these days have a premium line that sports a stainless-steel finish. Mo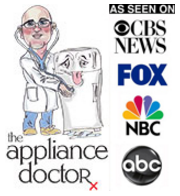 st would agree if you have the little extra cash to lay out for stainless the end result for your kitchen is very easy on the eyes. Whilst stainless steel appliances really look the part they do show up finger prints and smudges more easily. Here are a few handy tips on cleaning stainless steel appliances that won't break the bank.
Westchester Refrigerator Repair Recommends A Little Elbow Grease
When your stainless steel fridge is starting to look like a kids finger painting its time to grab a spray bottle and fill it with water. Spray down the desired area thoroughly after that take a microfiber cloth and work your way from the top down in an S pattern working with the grain of the steel to prevent scratches. Once the smudges and grime are gone flip the cloth over and give it a good dry buff. This action will give you a consistent sheen and remove any remaining water marks.
Occasionally you will encounter stubbornly caked on grime where water and elbow grease simply won't cut it. In this case, mix one part vinegar and one part water to your water bottle and repeat the process. Vinegar acts as a natural cleaning agent making it safe to be around food and it can be kept in the refrigerator to clean spills on the fly when needed.
Appliance Doctors all About The Shine
Once you have your stainless steel appliances sparkling clean its time to make them shine. The process to do this is the same as the previous cleaning action except for this time we are going to use rubbing alcohol or even a cheap vodka. Yes, that's right the vodka can come out of the fridge and on to the cloth. The alcohol drys super fast and leaves a streak-free finish. Mix one part alcohol and one part water into the spray bottle start from the top and rinse and repeat.
With having combined experience of over 47 years, we provide our help and expertise for
https://www.appliancerepairtv.com/wp-content/uploads/2017/07/Header-Logo-4.png
0
0
gladmin
https://www.appliancerepairtv.com/wp-content/uploads/2017/07/Header-Logo-4.png
gladmin
2018-02-08 07:38:05
2018-05-21 05:08:00
Appliance Doctor Westchester NY - Tips on Cleaning Stainless Steel Appliances