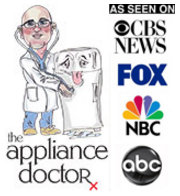 Refrigerators are indeed the "coolest" device ever invented. With this, we know that we will be able to keep our food fresh, cold, and even longer. So, we can enjoy our favorite dish for longer – without thinking of getting it spoiled.
What if on day, your refrigerator suddenly stops providing the coldness that your food needs? What are you going to do? When the most precious fridge stops working, don't worry. There is a trusted appliance repair Westchester NY that you can contact to fix this cold problem.
Something's wrong with My Refrigerator
According to experts, your fridge has a lifespan of 10 to 20 years. This would depend on the model and its maintenance. It would be uncommon if it breaks down after several years. But before this total breakdown, there are already signs that tell there is something wrong inside. Aside from the cold problem, here are the other ways that your fridge tells you it needed an Appliance Repair Westchester County:
There's a sudden increase in your bill – it is frustrating to know that there is a sudden increase in your bill when before, you are just using the minimum electricity consumption. This is already a sign that you have a broken refrigerator. A well-functioning fridge is accountable for the 8% of your energy consumption – if it is malfunctioning, that explain the increase in your bill.
Your fridge is making a pool of water on the kitchen floor – this is not just because you are defrosting it, but when leakage happens, there must be some faulty parts inside. Don't wait for having this leakage flood the entire house. Contact the best appliance repair Westchester NY to have it repaired.
It' hot – actually, opposite of the common belief, refrigerators don't give out that coldness inside. Instead, it just removes the heat from the inside to give that cold air. However, if it is uncomfortably hot instead of warm when touched, this is already a clear sign that something's not right. This calls for a repair.
It's making loud noises – refrigerators don't usually make noises under a typical condition – we all know that. But if one day, your fridge started making noises, contact a repair service provider to solve this issue. Who knows, if you ignore these, some parts of it might also go loco.
Why Appliance Repair Westchester County?
Don't let a malfunctioning fridge to cause your headaches. Let the experts fix this appliance problem to you. There may be some repair providers in Westchester County, but there is only one that you can count on. This company had been in the repair service for several years now, providing satisfactory results when it comes to appliance repair. They have a dedicated team that promised to deliver this excellent result wherever you are in Westchester County. Also, they use the latest technique, equipment, and parts to bring back your precious fridge to its normal state – just like before.
If your refrigerator is not cooling correctly unlike before, have it checked and repaired by the experts. When it comes to appliance malfunction, you can trust the appliance repair Westchester NY to do a great job.
With having combined experience of over 47 years, we provide our help and expertise for
https://www.appliancerepairtv.com/wp-content/uploads/2017/07/Header-Logo-4.png
0
0
gladmin
https://www.appliancerepairtv.com/wp-content/uploads/2017/07/Header-Logo-4.png
gladmin
2019-09-24 12:46:32
2019-09-11 12:56:36
4 Signs That Your Refrigerator Needs an Appliance Repair Westchester NY