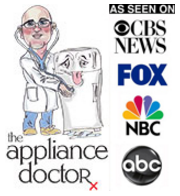 Your washing machine is typically one of your most used appliances. So you want to make sure it is in top working order to handle your laundry. If it's no longer performing as it should, the Appliance Doctor is your go to for washing machine repair in Westchester, NY. Here's how to maintain your washing machine.
Get the Most out of Your Washing Machine Repair in Westchester, NY
Even though water and detergent run through your washer, you still need to clean it. Washing powders and liquids leave a residue which can build up and cause odors in your machine and on your clothes. Every few months you should run an empty cycle set to the hottest temperature and add a cup of bleach to kill any mold spores. If you're following our maintenance tips but still having problems then you may need to find washing machine repair in Westchester.
The Appliance Doctor Provides Top Washer Advice
Ensure you aren't overloading your washing machine. Don't try and fit as much as you can in there as your laundry won't get clean and you are placing extra pressure on your appliance. Consult your instruction manual to find out how best to load your washer.
Find a Specialist for Appliance Repair in Westchester
Make sure your washing machine is on a level surface. If not it can cause extra wear and tear on your appliance and it won't last as long. Use a liquid level and adjust the legs until it is level. For washing machine repair in Westchester, NY, contact our team at the Appliance Doctor.
Westchester Residents Can Rely on the Appliance Doctor
Check your hoses and fittings for damage. If there are any breakages it can result in leaks or if left there may be a flood. To make sure they are in top condition, it's recommended they are replaced every five years regardless of damage.
Maintaining your washing machine is important to keep it working efficiently and extend the longevity. For washing machine repair in Westchester contact the Appliance Doctor.
With having combined experience of over 47 years, we provide our help and expertise for
https://www.appliancerepairtv.com/wp-content/uploads/2017/07/Header-Logo-4.png
0
0
gladmin
https://www.appliancerepairtv.com/wp-content/uploads/2017/07/Header-Logo-4.png
gladmin
2017-06-07 11:57:23
2018-05-21 05:20:55
How to Maintain or Repair Your Washing Machine in Westchester NY