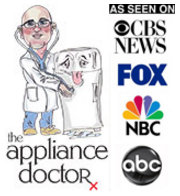 One must keep in mind that when an appliance has an internal issue, you need to take it apart. If your dishwasher is not working, you should check the circuit breaker and plug first. In case these components are working, check the selector switch, door switch and timer next. Replace broken components. If all of these components are working, the problem might be internal, and the wiring has to be replaced. You should call an expert in dishwasher repair Westchester NY to do the job for you.
If the dishwasher does not drain, you should check the drain hose and clean it. In case your dishwasher has both a drain impeller and wash impeller, the drain impeller might be damaged. Any broken part of the drain impeller should be replaced. The motor might be stuck as well. You can spin the motor by hand to try to get it going. If this method doesn't work, replace the motor.
In the case the dishes are not getting clean, the problem could be a broken or clogged detergent compartment. A clogged detergent compartment may also force you to use more dishwashing detergent than usual. Open the dishwasher and find the container. Remove any debris and excess soap around and inside the compartment with a soft cloth soaked in warm water. Make sure that the compartment is completely clean before replacing the lid. Test the unit's cleaning power by filling the compartment with dishwashing detergent and then running a load of dishes. If the dishwasher becomes clogged with debris and soap, you will end up wasting a lot of money and time. Cleaning the detergent container on a regular is vital to keep the appliance in top shape.
You can try fixing minor issues, but it is best that you call an expert in dishwasher repair Westchester to help you. This way, you can make sure that your appliance will be fixed properly. A well-maintained appliance will last longer. By fixing your dishwasher, you can reduce the unnecessary workload. Here's why you should hire a professional dishwasher repair technician.
Save money – Fixing a dishwasher is cheaper than purchasing a new one. You can save money that you can use to buy another appliance or spend on other matters.
Save time – Purchasing a dishwasher is time-consuming. You have to visit several stores to compare prices. If you are purchasing online, you need to wait for the item to arrive. This means that you need to wash the dishes manually. When the dishwasher arrives, you need to hire a plumber to install it. Hiring a dishwasher repair technician can help you save time as they have the knowledge and tool required for the job.
Convenient – Repairing the dishwasher is more convenient than buying a new one. The repair technician will do everything for you, so you only need to wait for them to finish the job.
By calling a Westchester or Dobbs Ferry dishwasher repair technician, you can restore the normal function of your appliance.
With having a combined experience of over 47 years, we provide our help and expertise for
https://www.appliancerepairtv.com/wp-content/uploads/2017/07/Header-Logo-4.png
0
0
gladmin
https://www.appliancerepairtv.com/wp-content/uploads/2017/07/Header-Logo-4.png
gladmin
2019-04-08 12:38:52
2019-04-08 12:39:22
Why You Should Opt for Dishwasher Repair