If you're in the process of fitting out your kitchen with new appliances the addition of a new freezer shouldn't be overlooked. Outside of the styles available, there are some other important factors to consider when purchasing a stand-alone freezer.
If you live in White plains, then appliance repair in White Plains is only a phone call away. Appliance doctor provides refrigerator repair, freezers repair and most appliances repair services across New York City and surrounding counties. Here are a few tips from Appliance Doctor to help you decide if a stand-alone freezer is right for you.
Appliance Repair Services White Plains NY – Freezer Edition
The first step in buying a stand-alone freezer is to know whether or not you really need one.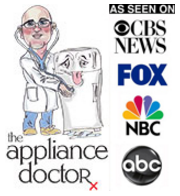 The top reasons to purchase a stand-alone freezer are you have a large family and you want to save money buying in bulk or you need to store large items like sheet cakes or large cuts of meat?
You may want to store pre-prepared meals or you are an avid hunter or fisherman requiring additional space to store your catch.
If you identify with any of these reasons a stand-alone freezer will be a great addition.
Suitable Locations For Stand Alone Freezers
Basements and garages are popular locations for these units. Typically there is less clutter and more space to fit a stand-alone freezer in these locations.It is important to take the dimensions before purchasing making certain it will fit through doorways and be able to negotiate stairways.
When choosing a location for install its best to have it in a space that's normal room temperature and with the least amount of humidity. Areas that are humid or get a lot of direct sunlight are best avoided. If located in a basement be sure not to put it next to a boiler. Humid and warm environments will affect the freezers efficiency,make the motor work harder and jack up your electricity bill.
Appliance Doctor Recommended Freezer Capacity
For a family, a good way to determine the minimum capacity you need is to multiply the number of people in your family by 1.5 to 2.5 cubic feet. If you have the added space you can never go wrong by sizing up a few cubic feet.
Frost free or manual defrost are options from most brands. A frost free model will require a bigger investment up front but will require little maintenance if stacked correctly. A manual defrost unit will save you some dollars but will require defrosting. The amount of defrosting will depend on how it is stacked and the conditions it is located in.
With having combined experience of over 47 years, we provide our help and expertise for
https://www.appliancerepairtv.com/wp-content/uploads/2017/07/Header-Logo-4.png
0
0
gladmin
https://www.appliancerepairtv.com/wp-content/uploads/2017/07/Header-Logo-4.png
gladmin
2018-03-27 06:44:49
2018-05-29 04:42:14
Appliance Repair Doctor: Tips on Buying a Freezer